HUNTING HISTORICAL ARCHIVE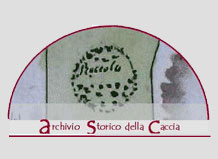 The Historical Hunting Archive is an institute that was born from the collaboration between the Lombardy Region, the Provincial Administration of Brescia – Hunting and Fishing Directorate, the Municipality of Gardone Val Trompia and the Valle Trompia Mountain Community.
The project of the Historical Hunting Archive stems from the awareness that, around the hunting experience, institutions, families, individual inhabitants have produced documents, letters and diaries of considerable interest over the centuries.
Written testimonies, already partially enhanced by research and publications, but which can be further promoted and protected by an institution that has adequate tools and that operates beyond the single event.
The main objectives of the Archive are the safeguarding of sources relating to hunting, the promotion of new research and the knowledge of the various aspects linked to the hunting experience.
Since 2008, the Archive has been a member of the Cultural and Environmental Heritage System and the Archive System of the Valle Trompia Mountain Community.
CONSULTATION METHOD
In the Archive it is possible to consult the traditional paper document, but also the information kept on informatic supports.
To consult the preserved documents and the other means of support present in the archive, it's possible contact the Archieve directly or the Archive System (SIBCA) of the Valle Trompia Mountain Community.
In both cases, an application is filled out and the consultation date is agreed.
For information:
Massimo Galeri
Archive System Coordinator
Cell. 3341031862 archivi@civitas.valletrompia.it